Need gift ideas for the manga fan in your life? ComicWorldNews.com has a nice list, complete with small reviews. (Thanks to ComicsReporter.com for the tip.)


First week sales totals are in on Amazon.com's Kindle e-book. Although the headlines were many, the sales were few. To cover for their failure, Amazon.com has their lackeys in the press already beating the drum for the version 2.0.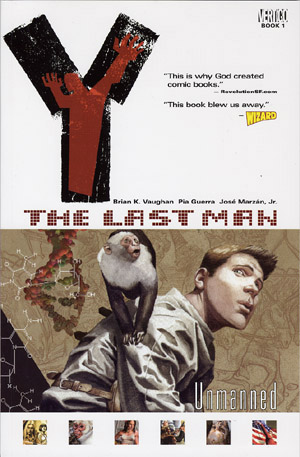 Whoever said comics are dead needs to look at the sales numbers for DC/Vertigo's Y: The Last Man. The trade paperback releases of this title just get more and more popular. First month sales of book two increased a whopping 66% over book one! This news is all the more encouraging considering that Y is actually a damn good read. Check out these reviews.


The 9 most badass bible verses, brought to you by Cracked Magazine. The selections are both apt and hilarious. The accompanying illustrations are just icing on the unleavened bread. (Thanks to BoingBoing for the tip.)