Moonwalk by Michael Jackson.
The book that started it all.

Michael Jackson: The Magic and the Madness by J. Randy Taraborrelli.
Cool title, crap cover.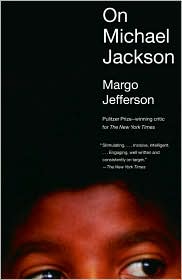 On Michael Jackson by Margo Jefferson.
Crap title, cool cover.

Jacko, His Rise and Fall: The Social and Sexual History of Michael Jackson by Darwin Porter.
A Ulysses for MJ gossip fiends. It makes Michael out to be a sort of Leopold Bloom, moonwalking in and out of the lives of every star in the celebrity universe.

















Michael Jackson Was My Lover: The Secret Diary of Jordie Chandler by Victor M. Gutierrez.
This is easily the most lurid of the bunch, and with a used price tag of $140, also the most expensive. The first time I read about this book was in an interview with writer/director, John Waters. Waters claims to have given out dozens of these things as Christmas presents over the years. He's never even sent me a card.

Captain EO: The Official 3-D Comic Book Adaptation of the George Lucas 3-D Musical Motion Picture Directed By Francis Ford Coppola
Would you believe that after all that, they had the nerve not to list the comic's writer or artist on the cover? The hubris!

R.I.P. MJ. Your Off The Wall album will always be one of my favorite records to sing along to while I'm in the shower.