Sick and tired of trying to live a hip, modern lifestyle while surrounded by the same old-fashioned bookshelves your great-great-grandmother used to own? Check out these daring new designs, all of which are guaranteed to make your books look bolder, cooler and sexier -- and you along with them.


This $1,899 See-Saw design from BCXSY stands a little over a foot off the floor, comes in a walnut finish, and is sure to make you the envy of all your friends...if your friends are seven year olds. Creepy!


Nothing's sexier than curling up with a good book. Except maybe being forced to -- GRRRRROWL! This next model, The Cave, is great for the s&m shut-ins, as well as those of you living in areas prone to earthquakes. For a change of pace, fill the shelves of The Cave with a bunch of Pepto Bimol-colored books (as pictured), and wa-lah! It's got all the charm of a sanitarium library.


Ooh, look at this hulking beast of a bookcase. Talk about tall, dark and cumbersome! The Eurocentric Bibliochaise holds "up to 5 meters of books," comes in a variety of garish colors, and doubles as a state sanctioned, eco-friendly alternative to the electric chair: the paper cut seat.


Okay, I know what you're thinking. 'But I'm insane and wish to show it to the world via a bookcase that is at once a cry for help and also a desk/chair combo. Is there something like that out there for folks like me?' Of course there is, you silly lunatic. Broken Shelves has just what the doctor (should have) ordered, and in gloomy goth grey, to boot.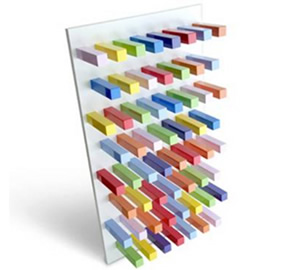 This last number is perfect for those of you who only own ten to twenty books, but wish to proudly display your relative illiteracy for the whole world to see. The Pop Bookcase comes in an unsettling, Rainbow Bright-inspired palette, and would be the very definition of 'style over substance' were there even the smallest bit of style displayed in its design. The word 'egads' comes immediately to mind.