Last week we linked to the NYTimes' re-evaluation of S.E. Hinton's The Outsiders. Today, we link to Hinton's own thoughts on the book. Next week, who knows? Maybe we'll use a Ouija board and some unlicensed, homo-erotic fan-fic to summon Dallas and Johnny and ask them what they think.


In an effort to lower taxes, Bridgewater, MA residents have voted in favor of closing their public library. How much will be saved by this immensely stupid move? Less than 2 percent of the town's total municipal budget! Great job, folks. (Bridgewater residents: Ask a literate friend to read this to you.)


Followng in the footsteps of Al Gore, former president Jimmy Carter is releasing a film to go along with his book, Palestine: Peace Not Apartheid. No word yet as to how the Leonardo DiCaprio and the Toyota Prius will factor in to all of this.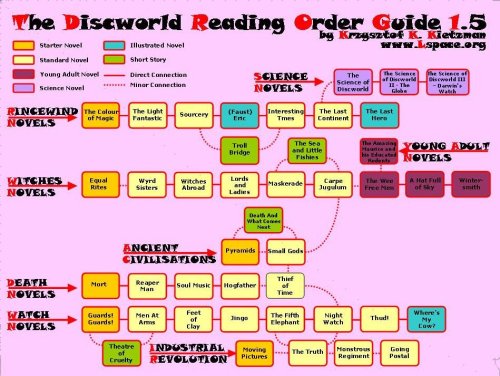 Terry Pratchett's Making Money is currently, well, making money, charting #4 on this week's NYTimes Best Seller List. The 33rd(!) book in Pratchett's Discworld series, new readers may feel a bit daunted. Fear not. Krzysztof Kietzman of Lspace.org has created the Discworld Reading Order Guide, which puts the main storylines of the Discworld books in their chronological sequence, with dotted lines showing how each storyline intersects with the rest. (Via: BoingBoing.net)


Malcolm Berko, the financial guru over at the Oklahoman.com warns his readers to stay away from investing in Barnes & Noble (and bookstores in general), saying, "Barnes & Noble is a very poor choice. You don't want BKS in your portfolio because future revenue gains will be miserly because of competition from video games, the Internet, TV and a declining literacy rate. Many Americans between ages 10 and 40 are infected with a genetic intellectual deficit. (We are observing a phenomena called 'the dumbing down of America" and what Dan Rather calls "the dumbing down of the news.')"
While it's hard to argue with the 'dumbing down' comments, I'd urge future/current bookstore owners/investors to ignore the rest of Berko's dreary portents, instead following the sage advice of a different Malcolm -- Malcolm X: By any means necessary.