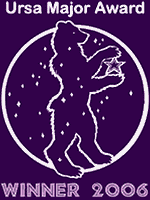 Disney's corporate fat-cats will be thrilled to know that the Gargoyles comic has won the category of Best Anthropomorphic Comic Book at the Ursa Major Awards. They may not be so thrilled to know that the Ursa Major Awards are a furries-centric awards show held at an Ohio Holiday Inn. Huzzah!


P-p-p-p-p-p-lease, your honor! Roger Rabbit author Gary Wolf has lost his merchandising royalties case against Disney. Via BusinessStandard.com: The author of the book behind the Who framed Roger Rabbit movie lost an appeals court decision in a royalties dispute with Walt Disney, the second largest US media company. A California appeals court said yesterday that a trial judge erred in letting a jury interpret whether author Gary Wolf was entitled to part of the gross receipts of Disney units that sold Roger Rabbit merchandise.
Certainly sounds like the work of Judge Doom to me.


The looong delayed release of Walt Disney's Legends of Imagineering and the Genesis of the Disney Theme Park by Jeff Kurtti and Bruce Gordon seems to be over. According to Amazon.com (do your research on the net, but make sure to buy locally!), the book is scheduled to hit bookshelves on July 15. For a brief article on the book and its many delays, check out this Jim Hill article from Sept. '07.