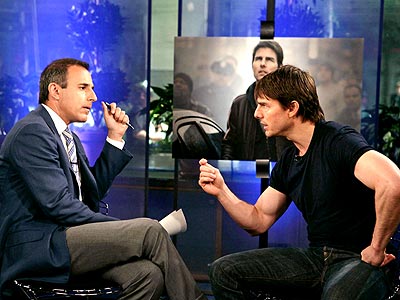 Last April, we linked to an article describing Tom Cruise and The Church of Scientology's legal bullying of British publisher, Macmillan. Macmillan had been planning to release Andrew Morton's unauthorized biography of Cruise, but canceled these plans after they'd been informed of the lengthy and expensive libel lawsuits that would follow. A similar fate awaited the Morton publishers in Australia, where the book's release was called off at the zero hour.
Well, it looks like Cruise and co. might be at it again. From Rush & Molloy:
'The Complex' author John Duignan cites Tom Cruise control
Tom Cruise is denying that he pressured Amazon to stop selling a book critical of the Church of Scientology.
On Oct. 31, Irish publisher Merlin released "The Complex," in which John Duignan, identified as "a former high-ranking member" of the church in Britain, describes his "dramatic escape" from its "elite para-military group," the Sea Organization. Five days later, Cruise dropped by Amazon's Seattle headquarters to glad-hand staffers and host a sneak peek at his new movie, "Valkyrie."
A few days later, Amazon's British Web site stopped selling "The Complex," explaining to customers that someone mentioned in the book had alleged it defamed him with "false claims."
"U.K. law gives us no choice but to remove the title from our catalogue," Amazon said in a statement.
"I believe Tom Cruise influenced them," Duignan tells us.
To read the whole article, click here.