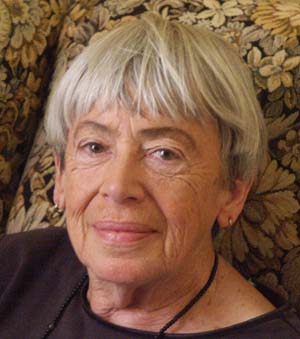 Ursula K. Le Guin (author of the Earthsea series, among others) has just added a new feature to her website titled Read by the Author. This is where visitors can hear Le Guin read excerpts from her work, while simultaneously allowing her to maintain a safe distance from her fans, their germy handshakes, and their incessant requests to have a character named after them in her next novel.


When timid Australian publishers canceled the release of Andrew Morton's Tom Cruise biography, opportunistic American ebay sellers stepped in to fill the void. This past week, the book (retail price, $25.95) was fetching up to $60 on the online auction block, with most of those copies going to the land down under. One seller, referring to him/herself only as Wojtek, sold over 150 copies in less than two days. I wonder how many of those are going to the friends and family of Aussie native and former Mrs. Cruise, Nicole Kidman? (Link)


The devil hates Hillary. Anna Wintour, the "famously frosty" Vogue editor and inspiration for the book, The Devil Wears Prada, is quickly becoming an Obama supporter. This is due in large part to Senator Clinton's last minute bail-out on an agreement to be photographed by Annie Leibovitz for the magazine's cover. According to The New Zealand Herald, "the change of heart followed fears in the Clinton camp that the presidential candidate would appear 'too feminine' if she was plastered across the style bible in designer outfits." I heard she was worried that the cover would be unfairly compared to her November 2007 Radar photoshop masterpiece. Let's face it, there's no topping that gem.