First an author had to worry about maintaining a MySpace, then the filming of their online ad, and now the rights to their tie-in video game?! When does a writer find the time to sit and write?


Tired of using that 'eye crusties' line from Neil Strauss' The Game? The New York Observer has an article on how to pick up chicks using ARCs. (Sorry ladies. Y'all are still stuck taking your cues from Sex in the City.)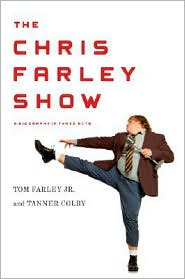 Tom Farley, author of the recently released The Chris Farley Show and brother of said book's subject, is touring the country, doing promotion. Check his Facebook for local appearances, and then channel Chris' ghost by falling face first into the signing table, smashing it to pieces.


At last, a little good news from the Tokyopop implosion: Tokyopop is giving back the rights to some OEL to its creators. Sure, this 'good news' only comes as a result of the 'bad news' we spoke about earlier, but it's still a damned fine thing for a publisher to do.


I haven't made a single red cent from ads or bribes since I started blogging this b*tch. It's been strictly a labor of love. But now I want to try and redeem my time spent online (in your service!) for a favor. Would one of our readers attending this Saturday's Heroes Con in Charlotte, NC please -- puh-lezze! -- hook me up with a copy of Jim Rugg's Afrodisiac mini comic? I promise I'll make it up to you with more pictures of Carla Bruni in wet, white outfits (consistently our biggest click-through) and updated links to free Death Note scans (a close second).