You want a guaranteed bump in hits for your bookstore's blog? Take a major comic book company to task for their artistic take on strong females. I suspected as much when I was assembling last week's Covert Art Cavalcade, but I've gotta admit, I was expecting a wholly different reaction. I'd assumed that our comments section was going to be inundated with irate fans of teen T&A, but with the exception of one comment on our LiveJournal page, literally every response* focused on a fact-checking error I'd made. (I'd mistakenly claimed Supergirl: Cosmic Adventures was being canceled, when, in fact, it was always intended to be a limited series.) Hell, even that one comment on our LiveJournal wasn't defending the content of the cover art. It was introducing the "cheesecake" concept to the conversation, and asking whether or not those covers fit into it. To quote:

I think you're overreacting to those covers a bit. Cheesecake is a comic art staple, always has been and always will be, more or less. This is true of beefcake, also, which can be seen as just as demeaning to males as cheese is to females.

The important questions about cake are, in no particular order:
1. How good is it, as art?
2. Does it cross the porn line, wherever that might lie for the audience you're aiming at?
3. Does it add or detract from the story?

I'm gonna answer these questions in reverse order, but first, let me say that the guy who made this comment -- A. Tannenbaum -- is right. There is good cheesecake. It's just that, with the exception of Gotham Sirens, the comics that those covers were being used to sell had nothing to do with the cheesecake concept. I mean, Batgirl and Supergirl are comics about, well, girls. Either DC is making a grievous error in their idea of what types of comics young girls want to read, or they're intentionally making comics which sexually fetishize underage women. Or both. In which case, they're schizophrenically attempting to sell sluts on the cover and strong girls in the inside, effectively killing sales to both the young females and the old pervs. (Then again, Supergirl is currently at issue #44, so maybe I'm underestimating the mainstream comics audience's ability to continually fall for the ol' bait and switch.)

Gosh, I can ramble. Let's save ourselves another poorly constructed paragraph and just consider that the answer to questions 2 & 3, okay? As for question 1, the quality of the art, that's entirely an aesthetic call. Still, if the Supergirl artist wanted to attend a couple of life drawing classes, it probably wouldn't hurt.

Just to re-iterate, I have nothing against cartoon titillation...except where it relates to teens, tweens, tots and zygotes. That's why, in an effort to shake our new found, schoolmarm, internet image, I'm dedicating this week's Cover Art Cavalcade to some of comics' best cheesecake. Unlock your office's NSFW filters and enjoy!














Luba's Comics & Stories #1 by Gilbert Hernandez
Penny Century #7 by Jaime Hernandez

The Hernandez brothers draw bigger, curvier, sexier women than almost everyone else in comics. Not only that, they draw explicit sex scenes! So why don't the feminists hate them? Because the characters that the Hernandez brothers create are not defined solely by their sexuality. They're well-rounded and fully-realized...and I'm not just talking about their bodies! Ba-dump-bump. Seriously, though, if you've never read any of the Hernandez' Love & Rockets books, I cannot recommend them highly enough. Start with Gilbert's Heartbreak Soup, a Gabriel García Márquez-ish exploration of the residents of the fictional Mexican town of Palomar (and a huge influence on Junot Díaz' The Brief Wondrous Life of Oscar Wao). Then, when you think that there's no way that you could possibly love another comics character as much as you love Heartbreak Soup's Carmen, move on to Jaime's The Girl from H.O.P.P.E.R.S. collection. There you'll meet Maggie: master mechanic, punk rocker, comic book collector and emotional mess. (For reviews of some of Jaime's recent L& R books, see the aforementioned A. Tannenbaum's reviews here.)

















Vampirella #1 by Frank Frazetta
Empowered#1 by Adam Warren

These two books are unabashed cheesecake at their finest. Heck, they don't even attempt to transcend their T&A roots, choosing instead to embrace it, wringing it of all its possibilities. Vampirella is a horror comics staple that has been published -- on and off -- since 1969. Countless authors and artists have used her to varying degrees of success, yet one thing has always remained the same: The skimpy red outfit.

Empowered is a more recent inductee into the cheesecake pantheon. It's the brainchild of artist Adam Warren, who's manga-influenced takes on American superheroes once inexplicably bothered the hell out of me. Then, one sunny day, I happened across Pop Culture Shock and Kevin Church's reviews of Empowered #1, and my curiosity was piqued. Four books later, I'm still a frothing fan of Warren's sweet and silly parody of the quote/un-quote "Super-Babe."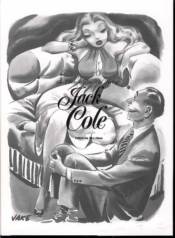 The Classic Pin-Up Art of Jack Cole
The Pin-Up Art of Dan DeCarlo

Ah, the classics. Just look at that line work! And the layouts! And those hips! Jack Cole, for those who don't know, was the creator of Plastic Man, as well as one of Hugh Hefner's favorite Playboy cartoonists. Giving Cole's Plastic Man and pin-up work a lurid twist, rumor has it he was impotent.

Check out the face on the girl in the stockings. Look familiar? That's because Dan De Carlo was one of the premier artists on Archie, Betty & Veronica, and Josie & the Pussycats. DeCarlo's seemingly simplistic approach to drawing female faces is still echoed by many cartoonists working today, including Love & Rockets' Hernandez brothers.

*Update! Since this screed was scribbled, we've received two comments actually pertaining to the topic at hand -- the cover art -- and not my continued need for an editor other than me, a few hours later.

Related and recommended:
Noah Berlatsky's Adding Incompetence to Insult
Laura Hudson's Comic Book Cheesecake: When Does Sexy Get Sexist?